Evening Gown 1933 Decades of Style Vintage Style Sewing Pattern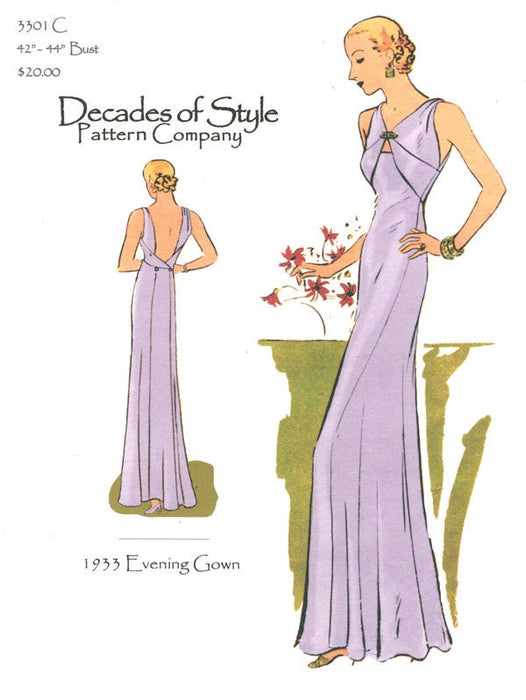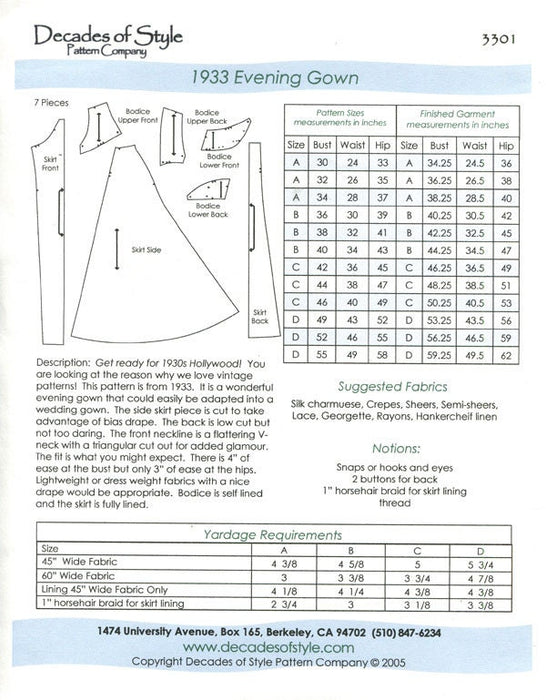 Dress Pattern by Decades of Style

Get ready for 1930s Hollywood! You are looking at the reason why we love vintage patterns! This fabulous vintage pattern is from 1933. It is a wonderful evening gown that could easily be adapted into a wedding gown.

The side skirt piece is cut to take advantage of bias drape. The back is low cut but not too daring. We were able to find a "convertible" bra at a major department store that worked fine with the finished dress. The front neckline is a flattering V-neck with a triangular cut out for added glamour.

The fit is what you might expect. There is 4" of ease at the bust but only 3" of ease at the hips. Lightweight or dress weight fabrics with a nice drape would be appropriate. Bodice is self lined and the skirt is fully lined.

Suggested fabrics: silk charmuese, crepe, sheer, semi-sheer, lace, georgette, rayon, hankerchief linen

Decades of Style are professionally made patterns from vintage designs. There are often fun and unusual pattern making techniques. Great instructions, printed on heavy paper!

*We ship quickly, and always refund overages on shipping!
We ship Monday through Friday, but are available on the weekends to answer questions and prepare shipments.
If you need something special or a different size please ask, we can do custom orders.